Robot Operation Results
Active as a goodwill ambassador for the announcement of Aichi Expo, sales promotion of tissue of Oji Paper Napier, guidance at store in Takashimaya As a robot, exhibited in the United States as a national yakiniku chain promotion, national pachinko chain promotion, robot uniform sales promotion …
Recent activities
| | |
| --- | --- |
| 2015/6/19 | West Japan Manufacturing Technology Innovation 2015 |
| 2015/9/23 | Thailand Fair Wai Thailand |
| 2015/12/5 | International Robot Exhibition |
| 2016/2/25 | The 15th Tama Industry Exchange Exhibition |
| 2016/3/8 | FOODEX JAPAN 2016 |
| 2016/5/11 | Japan IT Week |
| 2016/6/28 | West Japan Manufacturing Technology Innovation |
| 2016/7/22 | J-POP SUMMIT San Francisco |
| 2016/7/26 | Shinjuku Takashimaya 20th Anniversary Living and Robot Exhibition |
| 2016/10/5 | Industry-Academia-Government Collaboration Fair 2016 Miyagi |
| 2017/2/15 | Smart Energy Japan 2017 |
| 2017/6/4 | Yuuhime's Town Kakuda Walk |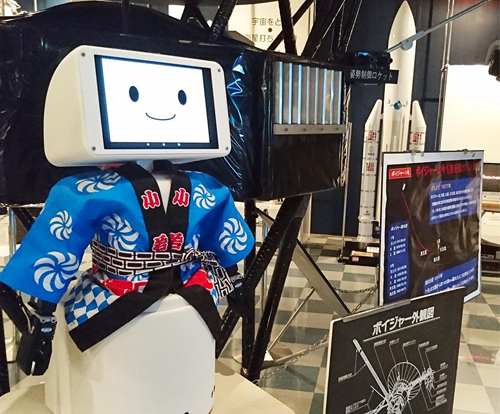 ROBOT MART
It is a unique unmanned convenience store where the robot is in charge of the customer service staff.
Robots not only serve customers, but also reduce labor costs, monitor with cameras, and deter shoplifting.
URL
https://robotmart.jp/
Street Address
〒103-0026
Nihonbashi Kabutocho first 1F, 20-6 Nihonbashi Kabutocho, Chuo-ku, Tokyo
Payment Method
PayPay, Robot Mart Chalet
Business hours
Open all year round from 7:00 to 23:00 (Saturdays, Sundays, and holidays from 10:00 to 19:00)
phone
+81-800-123-6110 (Reception hours: 10: 00-19: 00 on weekdays)
Business Description
This is the first unmanned convenience store in a unique street store where the first robot in Japan takes charge of the customer service staff.
QR payment makes it easy to purchase with just one smartphone.
Currently, we are also developing Robot Mart Mini, which is open for business in the office.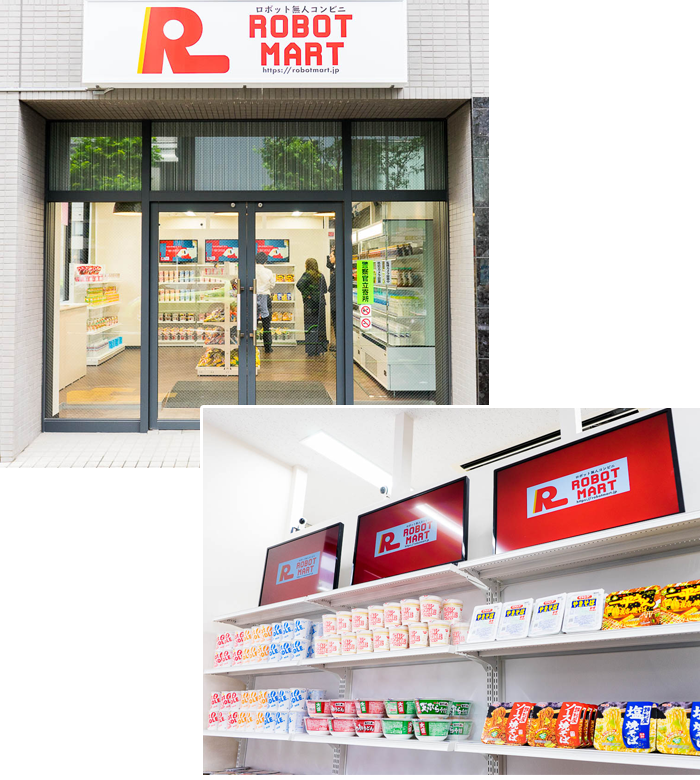 ROBOTMART Chalet

Cashless unmanned convenience store "Robot Mart" dedicated app.
With Robot Mart Chalet, you can make virtual currency settlement smoothly at the store.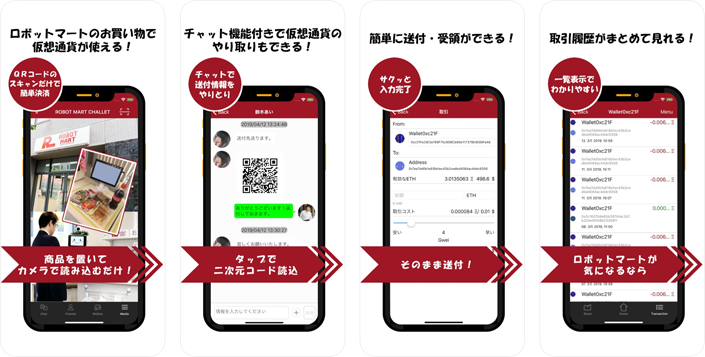 Wearable Product Development
Fusion of IT and fashion Development and sales of wearable products Development and sales of sportswear and other related products as a fashion brand "wearable" that incorporates app development wearable devices
Business Description
Manufacturing, sales, and wearables of wearable products vthat measure data such as heart rate, body temperature, steps, and distance traveled, with a focus on design for service sports that provides a brand that combines wearable devices and fashion.
We are developing our own mobile applicatio.
Performance
2019/2
Achieved a target sales volume of 500 in 1 hour with the Miraipo cloud funding service operated by iFreek.
After that, sold out 1000 clothes, the upper limit of sales, in about 2 hours
2019/5
Released "Wearable Chalet" app developed in collaboration with iFreak Mobile.
2019/8
Signed business alliance agreement with DuPont de Nemours, Inc.
2019/9
A wearable store was opened in Minato-ku Aoyama.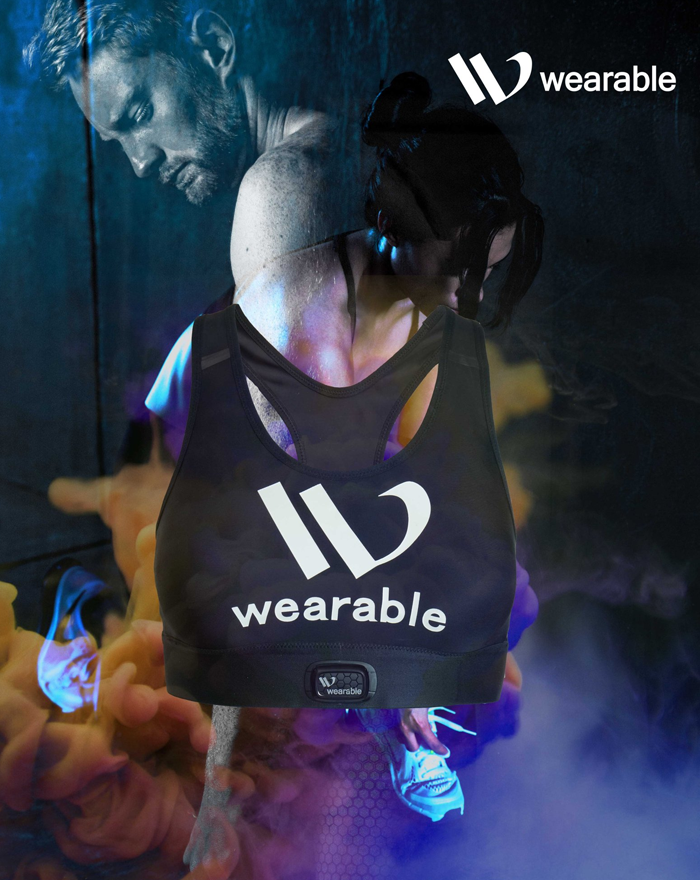 Wearable head office
URL
https://wrb.co.jp
住所
〒107-0061
Kitaaoyama 3-1 building, 3-8-5, Kitaaoyama, Minato-ku, Tokyo
営業時間
11: 00-19: 00
電話
+81-3-6452-6251
業務内容
With the opening of the Wearable main store, you can experience and purchase products from the fashion brand "wearable", which is mail-ordered at Rakuten Ichiba, at actual stores.
In addition, we will start the development of new wearable devices and the sale of fashion items such as bags and shoes as well as wear.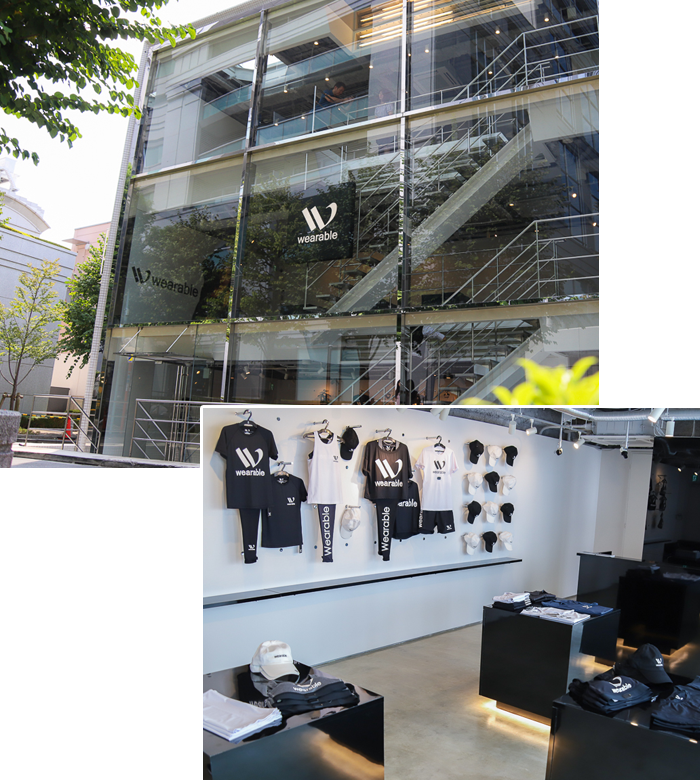 Wearable chalet

Training management app linked with sportswear with heart rate sensor.
Share your training results to your friends via chat and improve your motivation!